Other Activities
Activities for Students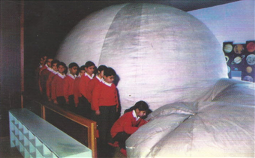 Since science is best learnt by doing, Nagaland Science Centre comes forward to promote activity based learning for better understanding of science. The Science Centre organizes many indoor and outdoor activities for students like Science Demonstration Lectures, Science Quiz, Science Seminar, Science Fair, Vacation Hobby Camp, Nature Study Camp etc.
The science centre also observes important days like, National Science Day, Anniversary Day of the centre, National Technology Day, World Environment Day, World Population Day, World AIDS Day, Children's Day etc. through befitting programmes and activities. Training is also imparted to students in fields like computer and electronics for their all round development.

Taramandal
Taramandal, a uniquely designed inflatable dome Planetarium of this centre makes one soar deep intothe sky by the night and know about different stars and constellations. It will also reveal to the visitors the night sky of Dimapur or any place in the northern hemisphere. It is an interactive and lively demonstration.
Science Park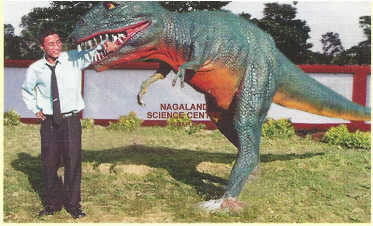 Outside the halls, in open air, situated is the lush green Science Park where young children come close to the nature and play with specially designed exhibits placed aesthetically in the natural surrounding. Here, one can find exhibits on simple mechanics, sound, optics, pendulums etc.
A visitor to the science park can operate levers of different classes and turn pulleys lifting load, hear echo of sound, enjoy sympathetic swing, look through a camera obscura, lift water with Archimedes' Screw, and above all can lift himself and check his own weight. Young children learn the basic principles of science while playing with these exhibits. The Dinosaur Corner at the entrance of the Science Park attracts visitors of all age group.